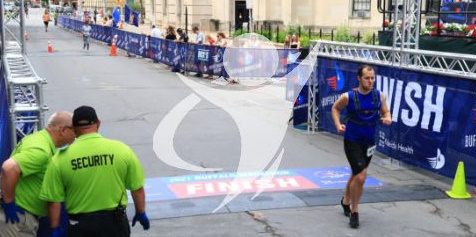 On Sunday morning I ran the Buffalo Marathon on a hot June day. After originally signing up for this race in late 2019, and seeing it get delayed again and again, it was great to finally run a traditional race with no course or wave modifications due to covid. This was my first marathon since running Niagara Falls 20 months ago.
I finished the race in 4:46:08 which was far quicker than I expected. Having to run in the June heat, and feeling far under trained from the past year I didn't come into the race having any expectations of finishing below five hours, and was considering dropping to the half as recently as a week ago.
Yet somehow, my time was shockingly decent. I was 33 minutes quicker than my last marathon, and only four minutes slower than my last run on the same course. Given the weather, this run was perhaps most comparable to the very warm 2016 race where I was only half a minute quicker than this year.
As a carry over from covid, there were no pace groups, so I was left on my own to figure out how fast to go. I felt fairly comfortable at the start, going at a steady pace while briefly walking the water stops. This strategy gave me a 63 minute opening 10k and a 2:12 half. This is both remarkably consistent, and only four minutes slower than my half marathon time from last week.
A bit past mile 14 I slowed down to walk a small hill, but mostly kept up my running until mile 17 which is always the toughest part of this course. From here on, I mostly maintained a run/walk pattern until the final mile of the race. The full gatorade bottles that seemed a bit wasteful on the first half of the course, were an absolute blessing on the second half. As were the many residents willing to walk into the middle of the street, and blast me with a hose.
Overall though the second half of the course did not mess up my pace too badly, and I came away with a time that I was very happy with and a full half hour quicker than I had expected.
My next race will be considerably shorter at the Fairport FireCracker 5K on July 3rd.