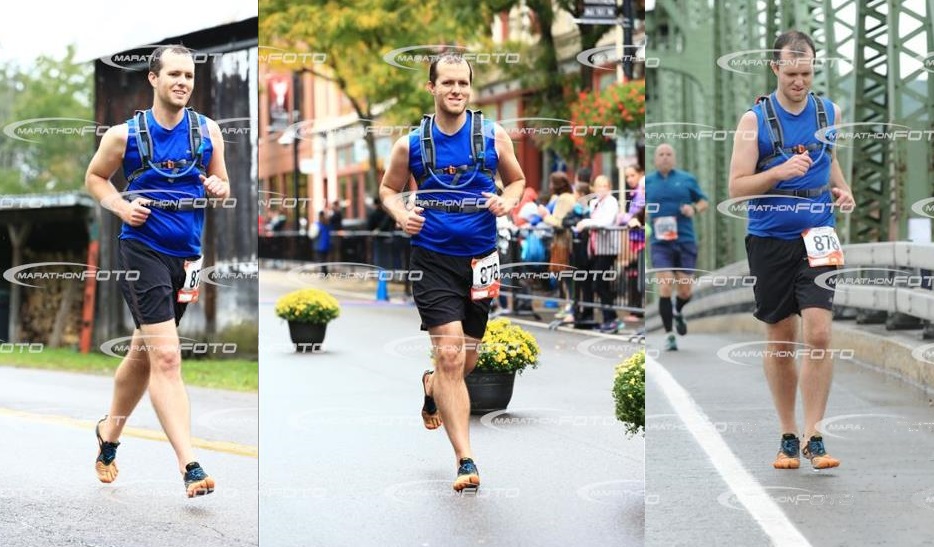 On Sunday I ran the Wineglass Marathon from Bath to Cornell. I finished in 4:38:12 and while this was slightly slower than I was hoping for, it was only six minutes off from my PR. Despite things not going well in the final 10k, it was actually a fairly good time a quite a bit quicker than my marathon from earlier in the year.
The day before the race the forecast called for no rain. An hour before the race the forecast said that the rain would stop soon. Instead it rained all day long. Normally I like to run in colder temperatures, but combined with the rain it was very cold at the start and never really got significantly better. However for a marathon I guess being too cold is better than being too warm.
I started the race with the 4:20 pace group, and the first mile felt really easy. I did a good job staying with the group and hit the 10k mark just under 62 minutes. By mile nine I was feeling good and pulled ahead of the pace group a bit and would stay ahead of the pace group until mile 18.
I reached the half way point in 2:09:34 still feeling good, but also realizing that this course wasn't as downhill as promised. While far short of the hills on the Rochester marathon course, Wineglass includes a fair number of rolling hills that keep the course from really being all that much easier than a flatish marathon like Buffalo.
By mile 17 I was starting to feel tired and knew that eventually I would have to slow down a bit. I maintained pace for a sub 4:20 marathon up until the 30k point and then backed off a bit. I started walking a little after 20 miles, but by the 35k mark I was still on pace for a 4:28 finish. Unfortunately I just couldn't quite keep that up and ultimately crossed the line in 4:38.
Still there were some good things to take away from this race. My pacing through the first 30k was strong and steady, and a pace that I would be comfortable staying at for my next marathon. Also my time of 2:28 for the second half is actually the quickest I have ever ran the back half, and therefore this was also the closest that I have ever come to having even splits at this distance.