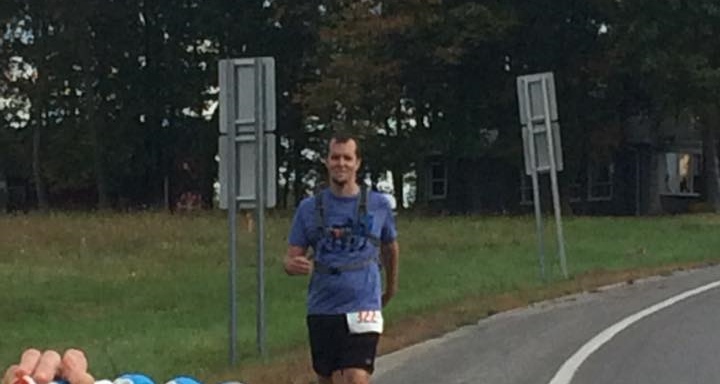 On Saturday I completed the Can Lake 50k ultra-marathon for the third time, and the fact that I finished the race is pretty much the best thing that I can say about the run. I truly blew up towards the end and finished after 6:48 which is a good bit slower than I was the first two years I ran this course.
At the start of the race I went out quickly, initially finding myself solidly in fourth place, which was very much reminiscent of my start last year. After the out and back, I began getting passed by a few of the other runners, but my pace felt steady and the run was still going according to plan.
The weather had started rainy and later turned to sun, which is opposite of what I find ideal, but I had planed to change my shirt at the 12.5 mile mark anyhow. After the aid station I walked the hill, ran down to the lake, made it to Bare road without incident, and even passed someone going up Bare hill. At this point I was tired, but felt like I had more energy left than at the same point in the previous years so I wasn't all that worried.
By mile 21 my legs were starting to hurt a bit, but I was still moving well, so I didn't give it too much mind. My water had gotten low sooner than in years past so I refilled at the 23.5 mile aid station feeling that I was almost done. However a bit past the 24 mile mark is where disaster struck.
My left calf cramped up to the point where I couldn't move it and I had to stop for a few seconds. When I got moving again, I found that I often had to slow to walk to prevent my leg from seizing (and my right calf got in on the action as well). By the time I was three miles out from the finish I was wholly incapable of running and (far too close to the finish to take a DNF) had to walk the rest of the way.
I really love the final two miles of this course as it winds its way downhill to the finishline, so it was heartbreaking to have to walk this whole section, and made my actual finish a bit anti-climatic.
My time was slower than the past two years, but given how poorly the final seven miles went I fully expected my time to well over seven hours. I don't have any split times, but given that I managed to stay below seven hours with all that walking indicates to me that I had previously been on pace for a rather solid run.
My next race will be one-tenth of the distance, next week at the Brick City 5k.